FOSS4G:UK Local 2023 - Maynooth
Local Venue Chairs: Peter Mooney
Sponsors
We are very grateful for the support of OSGeo:IE for sponsoring FOSS4G:UK Local 2023 at this event.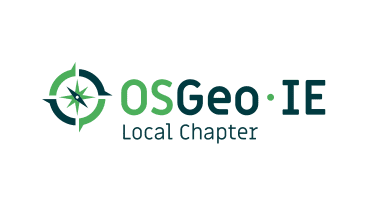 Location & Travel
Lab 019 - Ground Floor Eolas Building
North Campus
Maynooth University
Co. Kildare
Ireland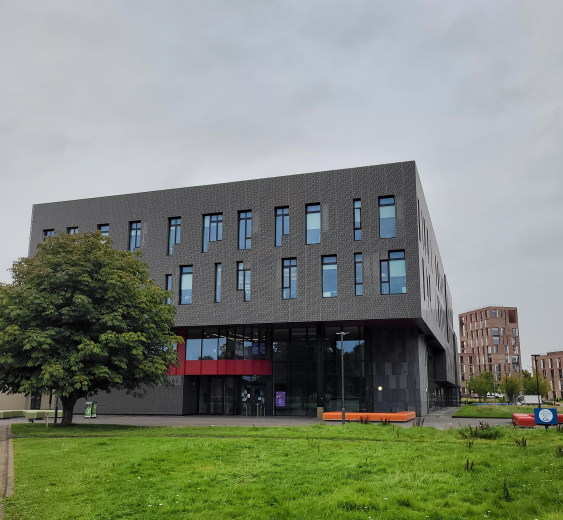 Venue Accessibility
The Eolas Building is situated in the very heart of the University's North Campus among several of the other science buildings. Outside of the Eolas building is a very generous public space and entrance area. All spaces in the building are accessible to wheelchair users as are all ground floor entrances. Accessible WC facilities are available at entry level and all other levels.
The Lab 019 is the venue room. This room is a state-of-the-art Computing teaching lab space usually used for Postgraduate teaching and small groups. There are over 30 individual seats in the room set out with generous workspace between each seat station. All of the seat stations are equipped with ergonomic chairs with individual plug sockets and USB outlets. Eduroam WiFi is available in the room for those who have access this network. The public MU-Guest WiFi network is available to guests who do not have Eduroam access.
We encourage everyone to travel by public transport/car share/under their own steam if possible. Information on public transportation options you can use to reach Maynooth University are available on the University webpage Getting to Maynooth using Public Transport
Car Parking
Some delegates will use their cars to reach Maynooth. We are fortunate that September 7th is still considered outside term time - therefore there should be ample parking available throughout the North Campus of the University. This means that you can park in any properly designated parking space within the car parks available. Car park 4 and Car park 5A are the closest car parks to the Eolas Building. You will see signs regarding parking permits for these car parks but, happily, permit-based parking will not be enforced until the end of September. This being said, please ensure that you park in a designated space.
Programme - Thursday 7th September 2023
| Session | Time | Speaker | Title |
| --- | --- | --- | --- |
| Local Arrivals | 09:30 - 09:40 | - | Local arrivals, registration, and networking |
| Local Arrivals | 09:40 - 09:45 | Peter Mooney | Local welcome and overview |
| STREAMED | 09:45 - 10:15 | Helen McKenzie | Geospatial Evangelism (streamed) |
Local session timetable at Maynooth
Local Session #1 Chair/Host - Daniel McInerney
Local Session #1 YouTube Stream Link
| Session | Time | Speaker | Title |
| --- | --- | --- | --- |
| Local Session #1 | 10:15 - 10:45 | Adriaan Keurhorst | Deep learning and Sentinel-1 for grazing detection in Ireland Download PDF of presentation |
| Local Break | 10:45 - 11:15 | - | Coffee/tea break (local) |
Local Session #2 Chair/Host - Daniel McInerney
Local Session #2 YouTube Stream Link
| Session | Time | Speaker | Title |
| --- | --- | --- | --- |
| Local Session #2 | 11:15 - 11:45 | Kevin Credit | The Walkable Accessibility Score: A spatially-granular open-source measure of walkability for the continental US from 1997-2019 |
| Local Session #2 | 11:45 - 12:15 | Hrishikesh Ballal | Urban Sprawl toolkit with open tools Download PDF of presentation |
| Local Session #2 | 12:15 - 12:45 | Paddy Gorry | Randomly generated spatial datasets - a Python approach Download PDF of presentation |
| Local Lunch | 12:45 - 13:45 | - | Lunch served at venue room (local) |
Local Session #3 Chair/Host - Hrishikesh Ballal
Local Session #3 YouTube Stream Link
| Session | Time | Speaker | Title |
| --- | --- | --- | --- |
| Local Session #3 | 13:45 - 14:15 | Paul Holloway | Using FOSS4G to meet UN Sustainable Development Goal (SDG) targets Download PDF of presentation |
| Local Session #3 | 14:15 - 14:30 | Kevin O'Brien | R - Dashboards and Shiny Apps |
| Local Session #3 | 14:30 - 14:45 | Everyone locally | Unconference - discussion of next steps for OSGeoIE (not streamed!) |
| Session | Time | Speaker | Title |
| --- | --- | --- | --- |
| STREAMED | 14:45 - 15:15 | Ujaval Gandhi | Geospatial Careers (YouTube Link streamed) |
| Local Break | 15:15 - 15:30 | - | Coffee/tea break (local) |
| STREAMED | 15:30 - 16:30 | Panel Session | FOSS4G 2013, 10 years on (YouTube Link streamed) |
| STREAMED | 16:30 - 16:45 | Nick Bearman | Wrap up, thanks and goodbye. (streamed) |